Altrincham 10k
Sunday 4th September 2022
​Address:
Cross Street, Altrincham Town Centre, WA14 1BW
Start Time: 9:30am
*PLEASE NOTE THERE IS A STRICT 90MIN CUT-OFF TIME DUE TO ROAD CLOSURES*
RACE PACKS



If you've entered before Monday 15th August you should receive your race pack in the post.
If you entered after this date (or haven't received your race pack in the post before the race), please make your way down to the collection desks on Sunday Morning.
It will take around 15 minutes to collect your number, so please arrive early.
You will only need one number attached to the front of your shirt.
Your timing chip will be attached to the bottom of your race bib and needs to be attached to your shoe as per the instructions on the back of the chip. Please make sure you keep your number on at all times during the race.
At the finish, you can dispose of your chip (we do not need to collect them back).
Collection time- 8:00-9:00am
When you receive your race packs, please take a couple of minutes to fill out the brief runner Information form which can be found printed on the back of your bib. This will help us greatly in case of an emergency!
RACE START
The race will have a warm up in the event village 15 minutes prior to the start time.
After the warm up, estimated finish times will be called to the starting pen where our marshals will guide you into a start formation.
DURING THE RACE
The race will start and finish in the town centre of Altrincham. Each kilometre will be accurately marked out with kilometre markers you can't miss and there will be plenty of helpers along the course to keep you on track and encourage you all the way to the finish line.
If you need to overtake on the course please be sure to take a wide berth around the runner in front.
Please see the route map below: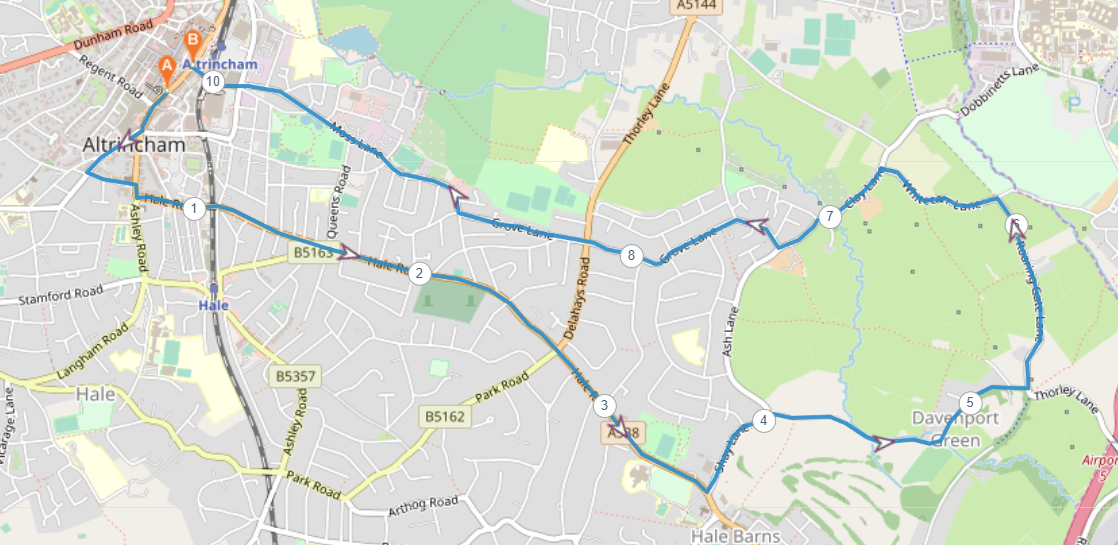 AFTER THE RACE
Do NOT stop within the finish area. Please continue through the finish until you pass the medals and are in an open space.
There will be sealed ACTIPH water bottles at the finish for each runner to collect along with your medal and Love Corn which will be laid out on tables for you to help yourself.
TOILETS
There will be plenty of Portable toilets within the event village for you to use before and after the race.
REFRESHMENTS
There will be a water station at the halfway point. Please help yourself to this as you pass.
Please discard any water bottles or rubbish near the course signs and bins during the race.
There will also be water available at the finish.
In order to avoid congestion on the course, we recommend bringing your own water.
BAGGAGE
Please limit the number of belongings you bring to the event.
There will be an informal self-service bag drop area within the town hall located in the event village for runners who need it.
Your baggage tag is attached to your race number, you simply tear it off and attach to your bag. To collect, show your number to the baggage tent staff and they will help you find your baggage.
SPECTATORS
Spectators are more than welcome to come along and support runners and we would advise staying in and around the event village within the town centre to catch the start and finish and see runners pass through on the course, without getting caught up in road closures.
The event village and town centre will also have live music, food & drink stalls and entertainment for the family – see what's going on before, during and after the race –  HERE
RESULTS
Results will be available on www.runthrough.co.uk after the race.
PICTURES
We will have a photographer taking a few snaps of the race, which will be made available on our photos page after the race.
TRAVEL
Event Address: Cross Street, Altrincham Town Centre, WA14
The Event Village will open from 7.30am on the day. As the event village is positioned in the town centre we cannot provide parking, however there are multiple public car parks that are a short walk away from the start line. Altrincham is also very accessible via public transport and we highly recommend travelling via tram/train.
There will be lots to do for runners and spectators within our event village with live performances, charity stalls, food and drink vendors and toilets. Please see below for our timeline packed with fun events for all the family!
TRAM
Altrincham tram stop is less than a 1 minute walk from the event village. There are regular trams that run frequently from Manchester City Centre to Altrincham Town Centre, taking approximately 30 minutes. If you are travelling via the East Didsbury or Manchester Airport lines there is a quick change at Trafford Bar; if you are travelling from Eccles/MediaCityUK there is a change at Cornbrook.
TRAIN
Northern trains run a service through Altrincham on the Chester-Manchester line, however please check train times ahead of the event as this service runs less frequently on a Sunday. Altrincham train station is located less than a 1 minute walk from the event village.
BUS
Several bus routes take you through Altrincham Town Centre, including the 11 from Stockport, 88 from Macclesfield / Knutsford and the 263 Manchester. Please remember to check Sunday timetables. Information for all bus routes can be found on the Transport for Greater Manchester website.
CAR
Altrincham is a short 30 minute drive from Manchester City Centre, with plenty of transport links via the M56. There are multiple car parks in the town centre that are a short walking distance from the event village, many of which are free or have cheaper fares on a Sunday.
We recommend you check out the Parkopedia website CLICK HERE to find parking for the event.
Goose Green car park is located within the course so in order to use this car park you will have to arrive before 8am.
The best way to get here if you use a smartphone is to download the Google Maps app.
EVENT T-SHIRTS
A comfortable, sweat-wicking fitted T shirt made for your daily workouts. This will probably be your favourite fitted activewear top made with a soft and lightweight polyester fabric, this T shirt is made to keep you comfortable and fresh on your run.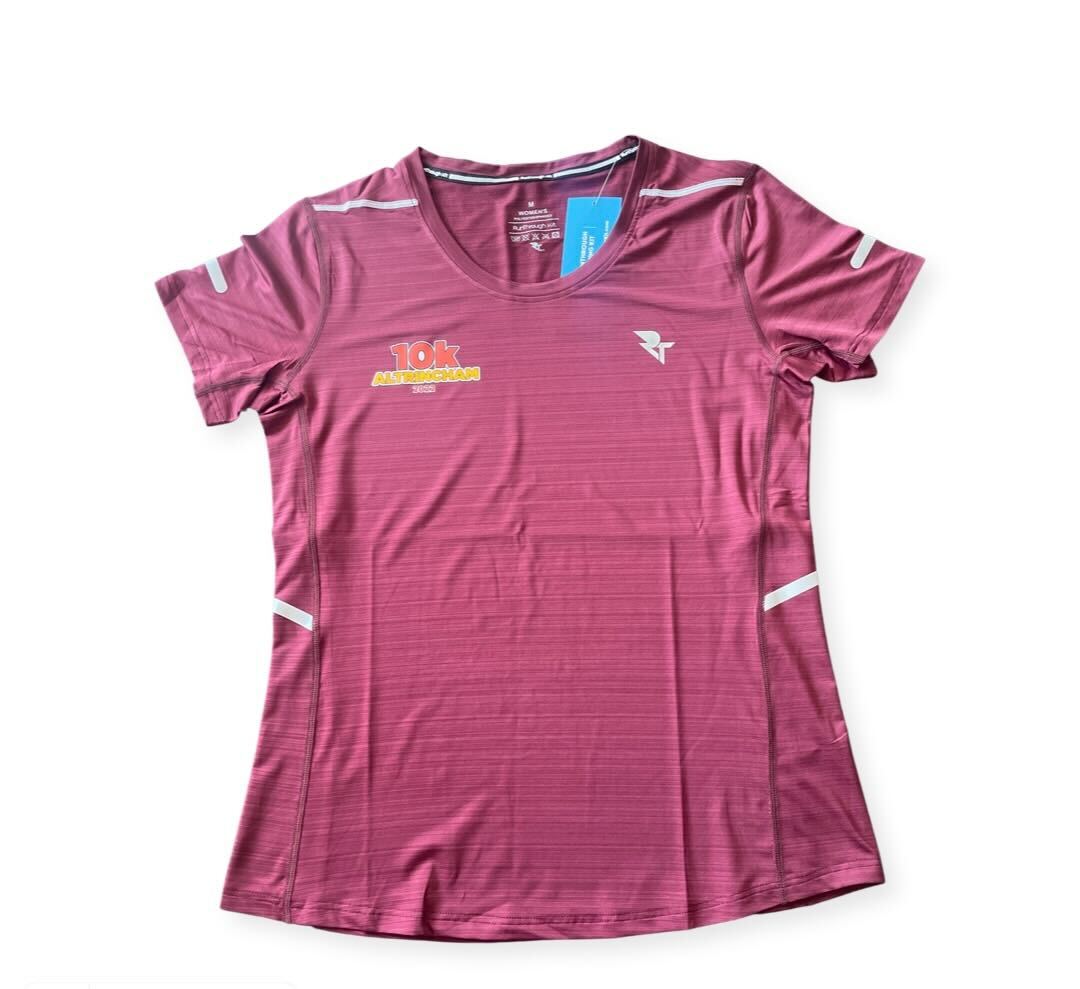 If you have purchased an event T-shirt with your race entry, please head to the RT Kit stall on the day of your race, with your tear off bib ticket (pictured) and we will have your item ready for collection!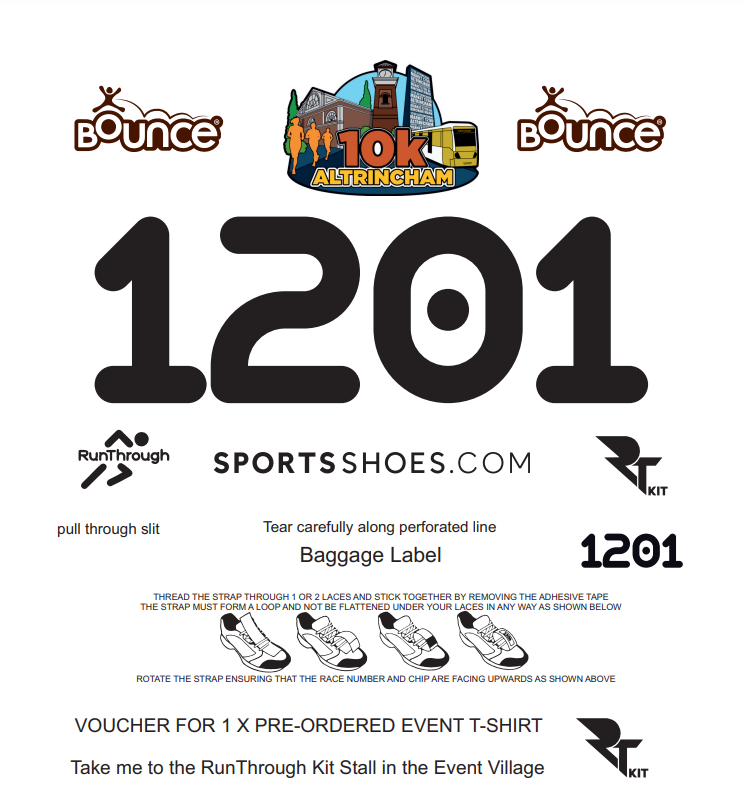 If you've not pre-ordered a T-shirt, but would like to purchase one, these are available 
HERE.
*
(*Due to the short time frame, any t-shirts purchased after the 1st September will be posted out, these won't be available to collect at the event) 
SOCIAL MEDIA
For updates leading up to the race, please check out our Facebook @Altrincham10k and follow us on Instagram @Altrincham10k use the hashtag #Altrincham10k in the build up to the race.
If you want to talk all things running before and after the event join our RunThrough Chat group on Facebook.
If you #RunThroughUK on Instagram with your race day collages, the best ones will feature on our page!
We look forward to seeing you there!
The Altrincham 10k Team 🙂