Altrincham 10k 2024
Sep 01, 2024
£28.00 – £140.00
29% event capacity filled
Entry Limit: 3000
Event Details:
Sunday | September 01, 2024
9/1/24 9:30 am - 9/1/24 11:30 am
JOIN US FOR THE ALTRINCHAM 10K ON SUNDAY 1ST SEPTEMBER 2024!
START TIME 9.30AM.
Join us for the return of Altrincham 10k and join thousands of runners in chasing a personal best starting in the town centre of Altrincham. The Altrincham 10k is open to runners of all abilities whether it will be your first 10k or your 50th, this fast route offers a perfect chance for a chip timed, personal best with full road closures during the event.
The 2023 Altrincham 10k will start and finish in the town centre of Altrincham. Each mile will be accurately marked out with distance flags you can't miss and there will be plenty of helpers along the course to keep you on track and encourage you all the way to the finish line.
Included in the entry is:
– Unique Themed Medal
– Live Chip Timed Results
– Free official race photos
– Post race goodies
BRAND NEW MEDAL TO BE REVEALED! (Previous design pictured)
We have been extensively researching into what runners consider important, and sustainability is fast becoming the most important area. Click HERE to see what RunThrough is doing for sustainability.
T-Shirts at events have been a hot topic mainly around them not being a high enough quality to wear on a regular basis. So we have decided to tackle this by offering a  gendered T-Shirt CLICK HERE  with a retail value of £22 for £12 with the addition of the event logo printed on the chest.
We can do this with our partner RT Kit as part of a strategic decision to not only raise awareness about the quality of the product but also to counteract the increasing costs incurred in event production in a post-COVID world.
2023 design pictured, 2024 style coming soon!
This race will have pacers to help you along your way!
If you'd like to join our pacer team, or check out which other events we'll be having our pacing flags at, click HERE
Route map for Alty 10k 2023 by Rob Sullivan on plotaroute.com
ONCE YOU ENTER YOU WILL RECEIVE A CONFIRMATION EMAIL. MORE INFORMATION ABOUT WHERE TO COLLECT YOUR NUMBER WILL BE SENT DURING THE WEEK LEADING UP TO THE EVENT!
After every race you'll be able to grab a delicious pack of LOVE CORN.
If that's not motivation to cross that finishing line, we don't know what is in life and in snacks, it's all about finding love in the little things.
LOVE CORN is delicious crunchy corn that makes lunchtimes more exciting, meetings go quicker and life a little bit better, one kernel at a time.
Whole corn kernels simply roasted off the cob and seasoned with the best ingredients to make the ultimate feel good snack.
50% less fat than crisps, high fibre, low sugar, gluten free and vegan.
What more could you want?
Give us a crunch and get 20% off using the code RUNTHROUGH20 – just visit HERE
LOVE, CORN
P.s we're crunchy, we're delicious!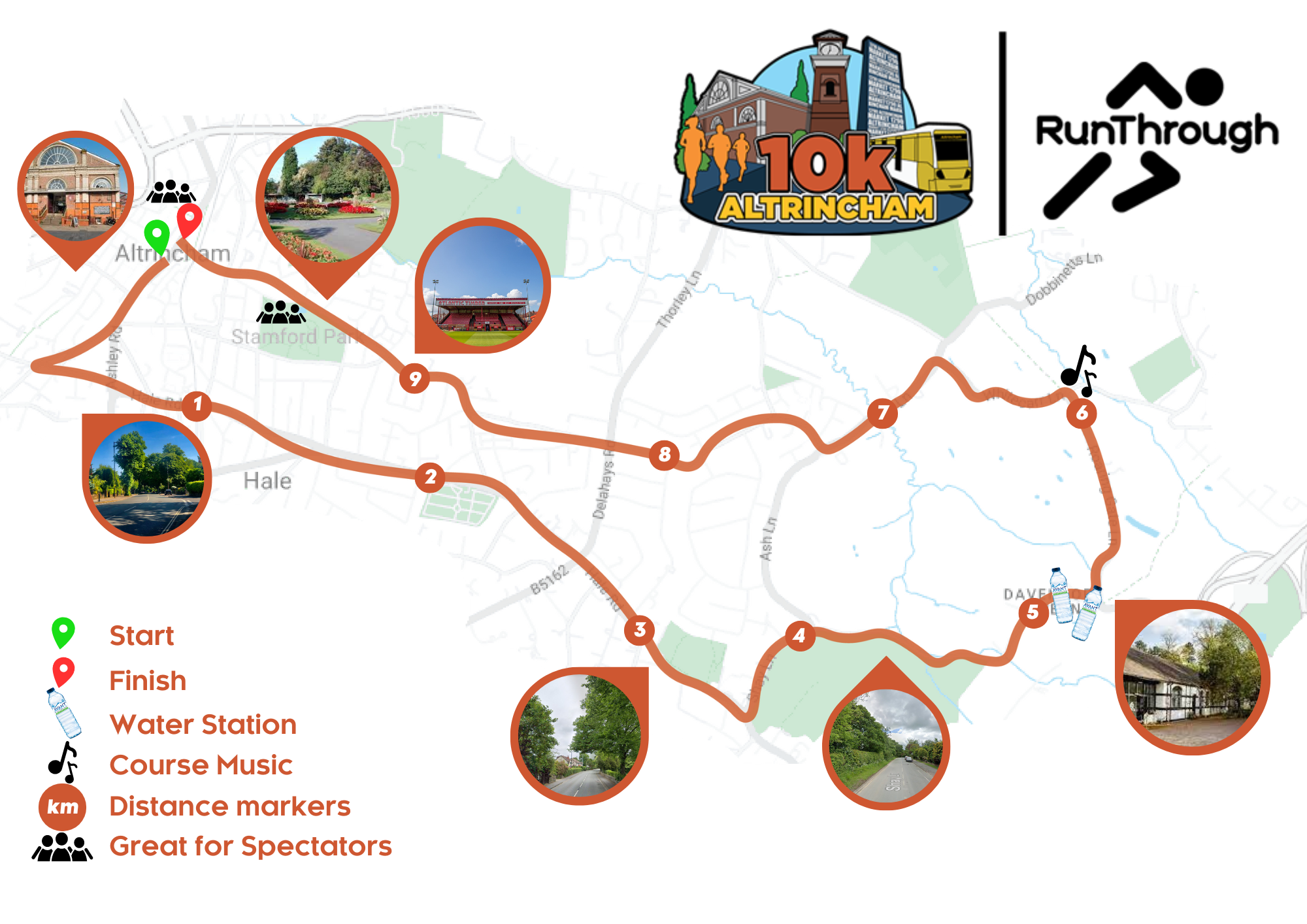 Event Address: Cross Street, Altrincham Town Centre, WA14

The Event Village will open from 7.30am on the day. As the event village is positioned in the town centre we cannot provide parking, however there are multiple public car parks that are a short walk away from the start line. Altrincham is also very accessible via public transport and we highly recommend travelling via tram/train.

There will be lots to do for runners and spectators within our event village with live performances, charity stalls, food and drink vendors and toilets. Please see below for our timeline packed with fun events for all the family!

TRAM
Altrincham tram stop is less than a 1 minute walk from the event village. There are regular trams that run frequently from Manchester City Centre to Altrincham Town Centre, taking approximately 30 minutes. If you are travelling via the East Didsbury or Manchester Airport lines there is a quick change at Trafford Bar; if you are travelling from Eccles/MediaCityUK there is a change at Cornbrook.

TRAIN
Northern trains run a service through Altrincham on the Chester-Manchester line, however please check train times ahead of the event as this service runs less frequently on a Sunday. Altrincham train station is located less than a 1 minute walk from the event village.

BUS
Several bus routes take you through Altrincham Town Centre, including the 11 from Stockport, 88 from Macclesfield / Knutsford and the 263 Manchester. Please remember to check Sunday timetables. Information for all bus routes can be found on the Transport for Greater Manchester website.

CAR
Altrincham is a short 30 minute drive from Manchester City Centre, with plenty of transport links via the M56. There are multiple car parks in the town centre that are a short walking distance from the event village, many of which are free or have cheaper fares on a Sunday.

We recommend you check out the Parkopedia website to find parking for the event.

Goose Green car park is located within the course so in order to use this car park you will have to arrive before 8am.

The best way to get here if you use a smartphone is to download the Google Maps app.


Volunteers
If you would like to help out on the day please complete the volunteer form on the website or contact us at
[email protected]
Results
All results will be available on www.altrincham10k.com after the race.
Pictures
We will have a photographer taking a few snaps of the race and they will be on our photos page after the race so be sure to check it out and see if you can spot yourself.
Social Media
For updates leading up to the race, please check out our Twitter @Altrincham10k, use the hashtag #Altrincham10k in the build up to the race
If you use #Altrincham10k on Instagram with your race day collages, the best ones will feature on our page!
If you have any queries, you can get in touch on
[email protected]